Exeter Respect is the city's annual celebration of diversity where we use the performing and creative arts to engage the wider community in saying no to racism and all forms of prejudice. The Respect ethos is a simple one: racism and prejudice often spring from fear, and fear is often based on ignorance, so let's overcome ignorance by getting to know one another and sharing not shunning our cultures. One of the best ways to get to know someone is to enjoy yourself with them, hence our celebratory event and adoption of the old Commission for Racial Equality slogan:
All Different, All Equal!
The first Exeter Respect festival took place in 1997 and there has been a celebration virtually every year since then. From 2003 to 2008 Exeter Respect's biggest event was at Exeter Phoenix Arts Centre, but from 2009 to the present day our focus has been a giant two day festival in Belmont Park, with a footfall of around 20,000 people every year.
In 2020 we decided to host Exeter Respect Festival @ Home online, dedicated to all NHS, care and key workers. On Sunday 05 July we filled our website with much of the usual entertainment, music, dance and information that you would expect from Exeter Respect.
EXETER LIVING AWARDS WINNER!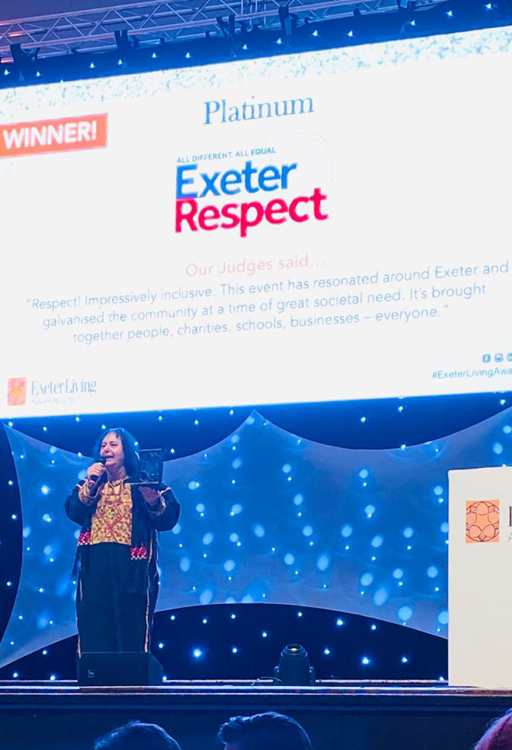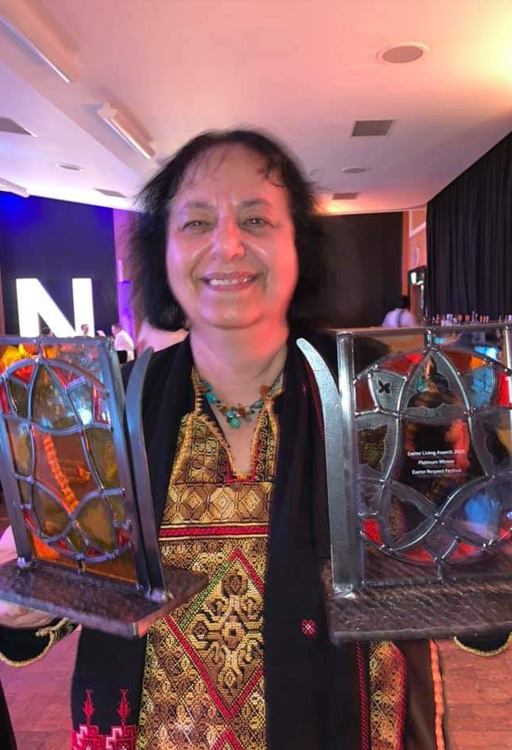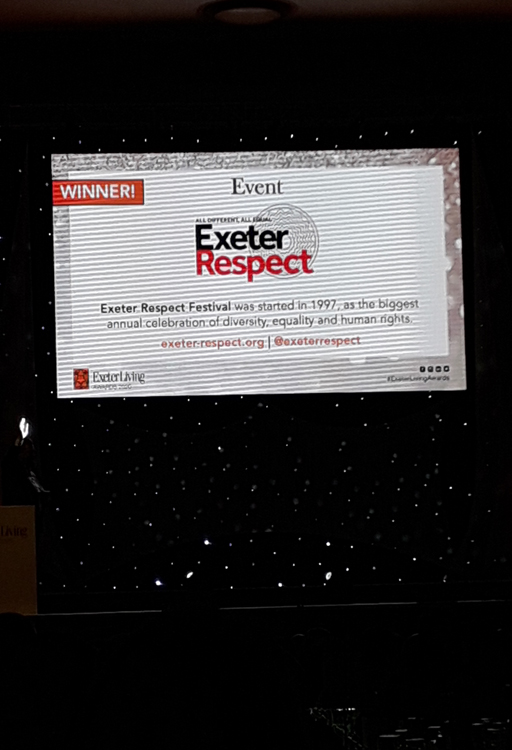 Exeter Respect is very proud to have won two Exeter Living Awards in March – one in the events catagory and another overall recognition award. It is wonderful to have recognition and support within the community.
Thank you!
WHY IS EXETER RESPECT ALCOHOL FREE?
The increasing number of festival-goers is a sign of Respect's success. An ongoing challenge is how to keep the event safe and enjoyable for everyone who comes along.
Due to the capacity limits of Belmont Park and a number of issues related to the consumption of alcohol in 2013, this year we took the tough decision to make the festival alcohol-free. We made this decision in consultation with the public and the Exeter Safety Advisory Group, which includes Exeter City Council and the Police.
We know that some people may be disappointed but hope that people who prefer to drink will understand the reasons. In the spirit of the festival, we hope people will respect this decision and refrain from bringing alcohol into the park.
Sam Kinsella from Ripple Effect, a recovery project for people in recovery from addiction said, "Exeter Respect is a family friendly open community event. The decision to free this from alcohol will create a safe environment. Ripple sees the impact of drugs and alcohol in young people and families and we support this decision. It is vital to have events where our community can be seen enjoying activities without the use of alcohol".
We look forward to seeing everyone soon!
PLATINUM SPONSOR
GOLD SPONSORS
SILVER SPONSORS
BRONZE SPONSORS
FRIENDS OF EXETER RESPECT
IN-KIND SPONSORSHIP OR CONTRA-DEAL