Exeter Respect Festival 2021, Exeter Phoenix, Saturday 14.08.21
This year the festival will be dedicated to all front line NHS staff and key workers who are taking great risks to help the community.
12pm to 5pm, across the Phoenix
Music • Discussion Panels • Dance • Workshops • Stalls • Film • Poetry • Open Mic
Including
Bryar Bajalan Poetry • Ilaria Belly Dance • Jan • Kulu • Love from Syria • O'Marleys • Paul Kouatchou • Philippines Community Choir • Real Ish Band • Sabu • Still Moving Dance Company • Wasim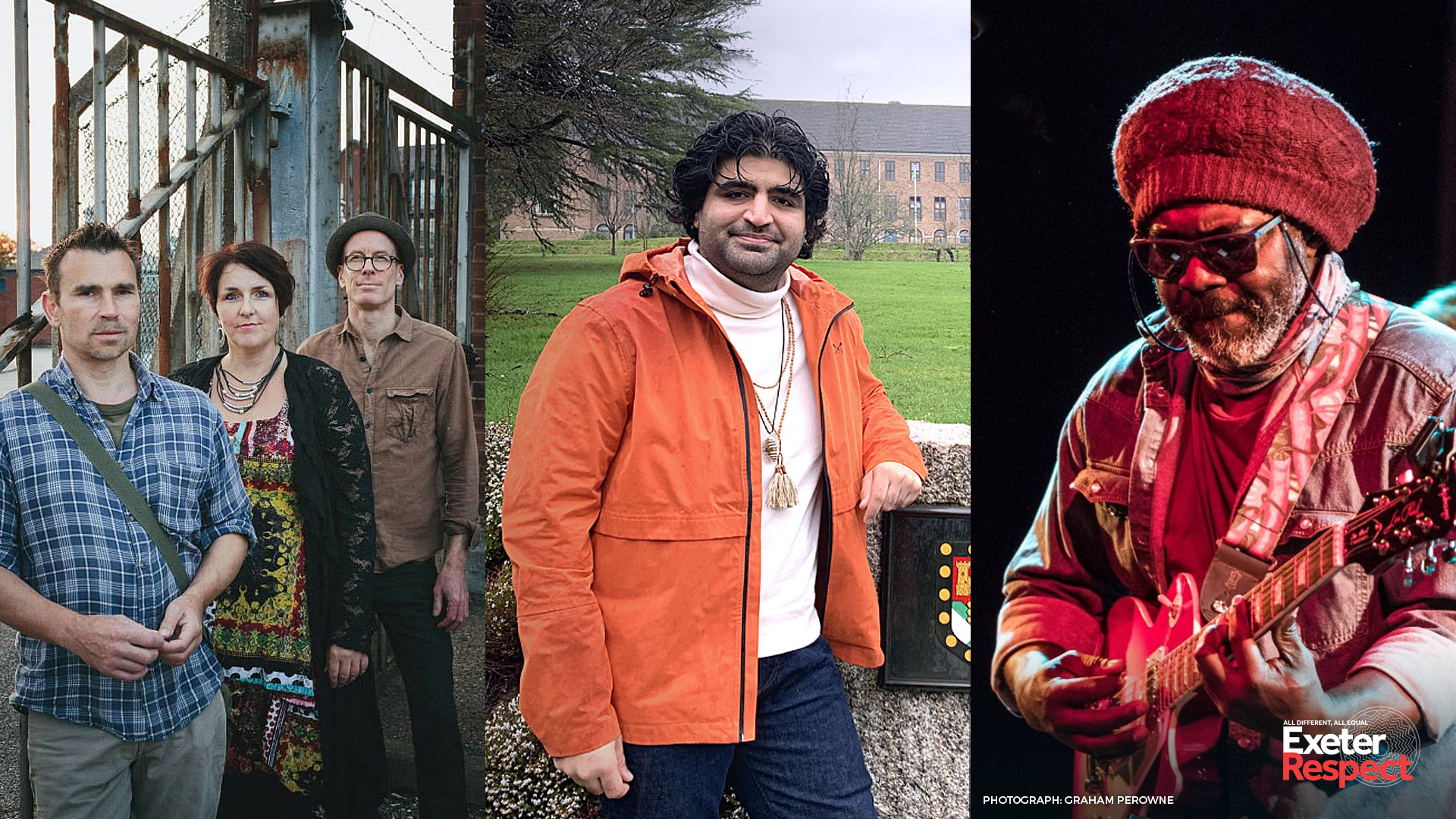 IN THE AUDITORIUM
LOVE FROM SYRIA – Noon
WAZ – 12.20
KULU – 12.40
JAN – 1.15
ILLARIA BELLY DANCE – 1.40
BRYAR BAJALAN POETRY – 1.45
LOVE FROM SYRIA & JAN -1.50
SABU – 2.15
O'MARLEYS – 2.20
PHILIPPINES COMMUNITY CHOIR – 3.10
PAUL KOUATCHOU – 3.35
REAL ISH BAND – 4.00
FILM
LIMBO – 14:00 & 20:00
For more details and a £5 ticket offer click here
STUDIO 1
Panel Discussions
NHS and Community Experiences – Noon
Women's Work Climate Change & Post Covid-19 – 1.30
Contemporary Dance Workshops – 3.00
Hosted by the Still Moving Dance Company

_____
MUSEUM CAR PARK
Stalls and Campaigns
_____
TERRACE
Soundtribe Bands – Noon
Baited by Bandogs, Neptune Rising, 83 Terminating Wabbits
Open Mic – 2.00
Hosted by Midi TV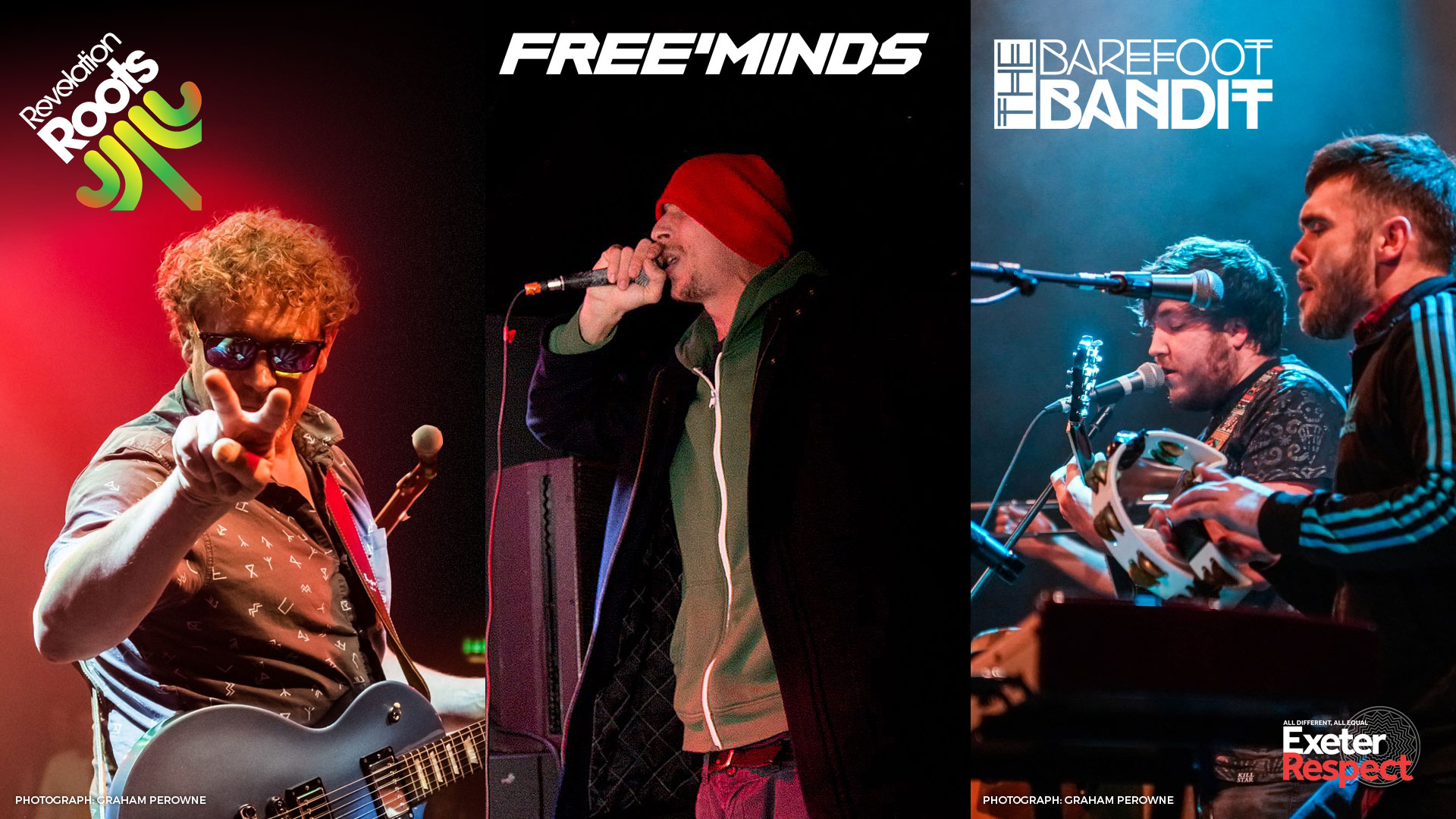 IN THE AUDITORIUM
THE BAREFOOT BANDIT
THE BAREFOOT BANDIT ARE A HIGHLY ENERGETIC NEW-WAVE REGGAE/DUB BAND BASED IN DEVON, UK.
Their noise comprises of an electrifying blend of modern roots reggae, deep dark dub and a sprinkling of experimental soundscapes. Building a strong and loyal fan base, TBB have spread their sounds far and wide from headlining small stages at Glastonbury Festival to main stage performances at One Love Festival, Glass Butter Beach, Wonderfields and more. A lucrative debut tour of Ireland, countless shows around the UK and multiple appearances at Boomtown Fair have seen The Barefoot Bandit become a prolific festival outfit and perform their dynamic live show in front of audiences of 6000 plus. The band's most recent work includes a collaboration with Extinction Rebellion – "Floods".
REVELATION ROOTS DUB
REVELATION ROOTS IS A COLLABORATION OF BEAUTIFUL & HAPPY REGGAE MUSICIANS FROM SEVERAL RENOWNED BANDS ON THE UK REGGAE SCENE
Revelation Roots – 'unplugged' and stripped down to the bare core. Offering the audience a more intimate and chilled acoustic vibe, yet not too distant from the raw and sonorous reggae roots classics the band usually deliver; with a hit of mellow…
On vocals: you have the rich and direct, yet smooth vocals of Dan Salter combined beautifully with the sultry, yet driven vocals of AJP (Dan also on percussion). Accompanied by the awesome: Jez Hill on guitar, Jack Chilcot on Sax and Warren Bekir on Bass.
FREE'THINK
JamC, Riffree and Chatta along with DJ Cynical decided in early 2017 to combine their like minded lyrical content and passion for hip-hop to create the collective that is Free'Minds. Each bringing their own identities and characters to life through their music, expressing their independent views and insights into the way they view the world.
All three started off independently from one another but as close friends have featured on each others releases and music videos. Due to being part of GK Beats, the hip-hop sub-section of the London based Graffiti Kings, they've been able to reach a global fanbase with over 2 million followers and growing fast. This has allowed them to share their take on the world with a wider audience within the hip-hop community.
Exeter Respect is the city's annual celebration of diversity where we use the performing and creative arts to engage the wider community in saying no to racism and all forms of prejudice. The Respect ethos is a simple one: racism and prejudice often spring from fear, and fear is often based on ignorance, so let's overcome ignorance by getting to know one another and sharing not shunning our cultures. One of the best ways to get to know someone is to enjoy yourself with them, hence our celebratory event and adoption of the old Commission for Racial Equality slogan:
All Different, All Equal!
The first Exeter Respect festival took place in 1997 and there has been a celebration virtually every year since then. From 2003 to 2008 Exeter Respect's biggest event was at Exeter Phoenix Arts Centre, but from 2009 to the present day our focus has been a giant two day festival in Belmont Park, with a footfall of around 20,000 people every year.
This year we are pleased to return to the Exeter Phoenix and look forward to seeing you there.
Covid – please observe Government guidelines