Exeter Respect Festival 2022
Belmont Park, Sat 11 and Sun 12 June 2022
25th Anniversary
Exeter Respect Festival 2022 makes a welcome return to Belmont Park for the first time since 2019 with a theme of 'Environmental Justice'.
2022 marks the 25 years anniversary of the first Respect Festival in Exeter in 1997 that brought communities together to celebrate their differences and commonalities.
We're back with a Platinum award from Exeter Living Magazine in their festivals and events category. The awards event took place on the 12th March 2020, it was an evening with mixed feelings that took place just before the lockdown, and it was frustrating that we couldn't share our joy and thank Exeter Living Magazine, the audience and the public enough for their support.
Sadly the 2020 Exeter Respect Festival had to be online, with our thoughts given to the many people who were affected by Covid 19. Due to the ongoing restrictions, 2021's festival was a happy but smaller event that took place at Exeter Phoenix; both years were dedicated to NHS Frontline workers.
This year Exeter Respect Festival is back live and in full in Exeter City Council's public ground at Belmont Park. On Saturday the doors open to the public at 11:30 am, starting at noon running to 7pm, Sunday times are 11pm to 6pm. Distinguished stars Northern Ireland's The Henry Girls headline the Mandela Stage on Saturday and Sunday is headlined by Devon Afrobeat Collective. There's the usual variety of entertainment across the Community and Diversity Stages reflecting diversity in our culture. The festival continues to be alcohol free, but this year Nova Bar brings non-alcoholic cocktails for everyone's enjoyment. There's the opportunity for visitors to sample the wealth of content of stalls providing everything from global food to fine clothing and handmade crafts, plus information about local communities and organisations delivered with a very genuine smile, alongside outdoor processions and activities for everyone of all ages.
Due to the present economic climate, to sustain the festival there's an entrance fee of £2 for each day, under 16s are free.
The festival is an alcohol free zone.
SATURDAY 11.06 HEADLINER THE HENRY GIRLS
THE HENRY GIRLS
The Henry Girls are sisters Karen, Lorna and Joleen McLaughlin from the most Northerly part of Co. Donegal. The trio formed as a professional music group in 2001 and have recorded 6 studio albums, a couple of EPs and a live album of music by The Boswell Sisters of New Orleans.
Infused with the rich cultural heritage of their native Donegal but with a transatlantic flavour their music has been described as ʻfull bodied and powerfully dynamic'. They have successfully learned to interweave their traditional roots with contemporary elements, earning them both commercial success and spectacular critical acclaim on both sides of the Atlantic.
The Henry Girls have played at many festivals all over Europe and beyond and they regularly tour in countries like Germany, Holland, Austria, UK, Ireland and USA and are looking forward to headlining Exeter Respect In The Park on Saturday 11 June.
Click here to visit The Henry Girls website
Watch The Henry Girls on YouTube
Listen to The Henry Girls on Spotify
SUNDAY 12.06 HEADLINER AFROBEAT COLLECTIVE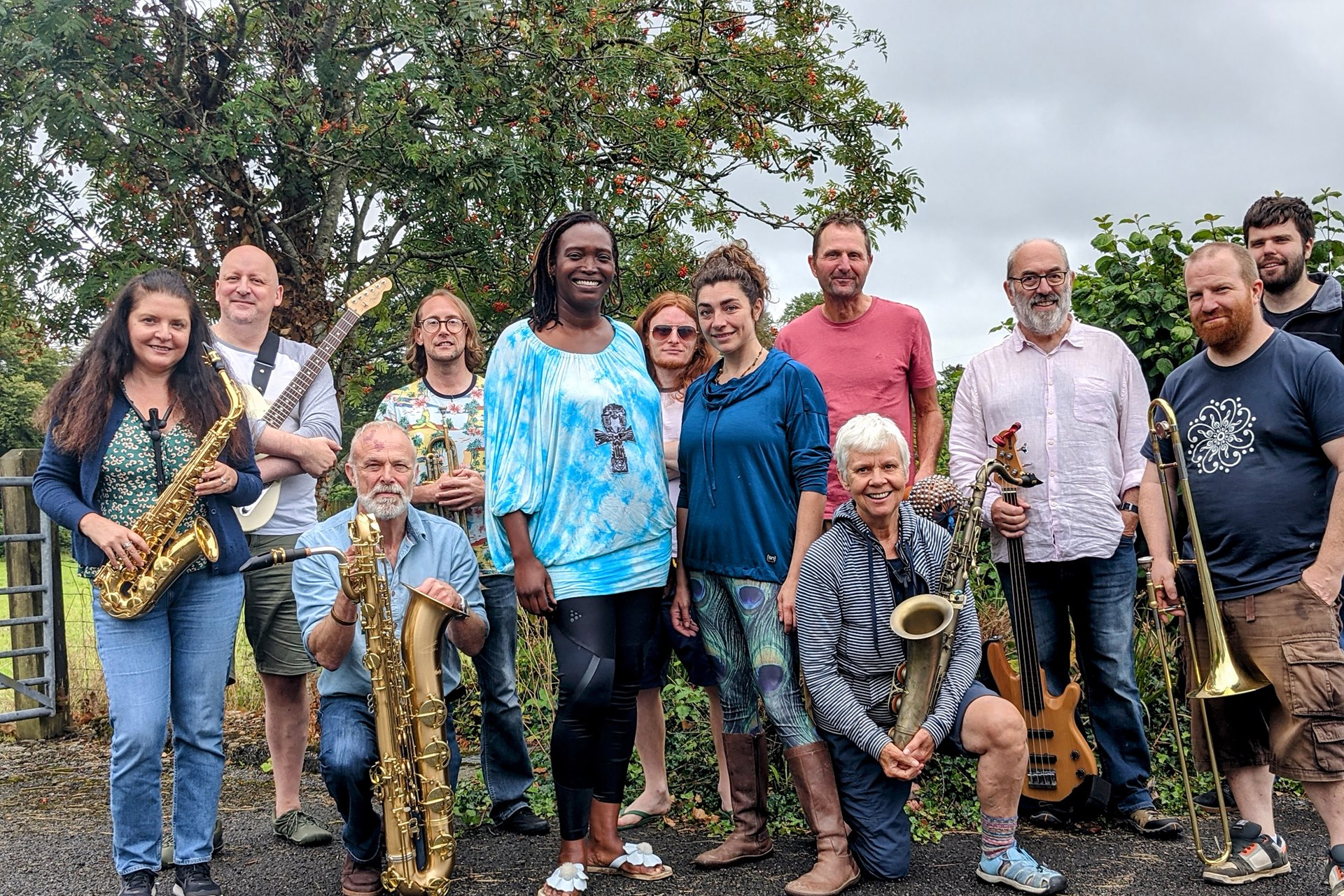 DEVON AFROBEAT COLLECTIVE
Formed in March 2018, a dozen or so musicians got together in South Devon to form a band to create wall to wall danceable grooves.
With the fabulous voice of Jaz Gayle, two backing singers, and a five-piece horn section, Devon Afrobeat Collective are a 14-piece Afrobeat band that includes three great singers and a five-piece horn section. The Collective played a sell out gig at Ashburton Arts in September 2021, and have recently appeared at Exeter Street Arts and Something Wild Festival.
RESPECT FILM, EXETER PHOENIX – SAT 11.06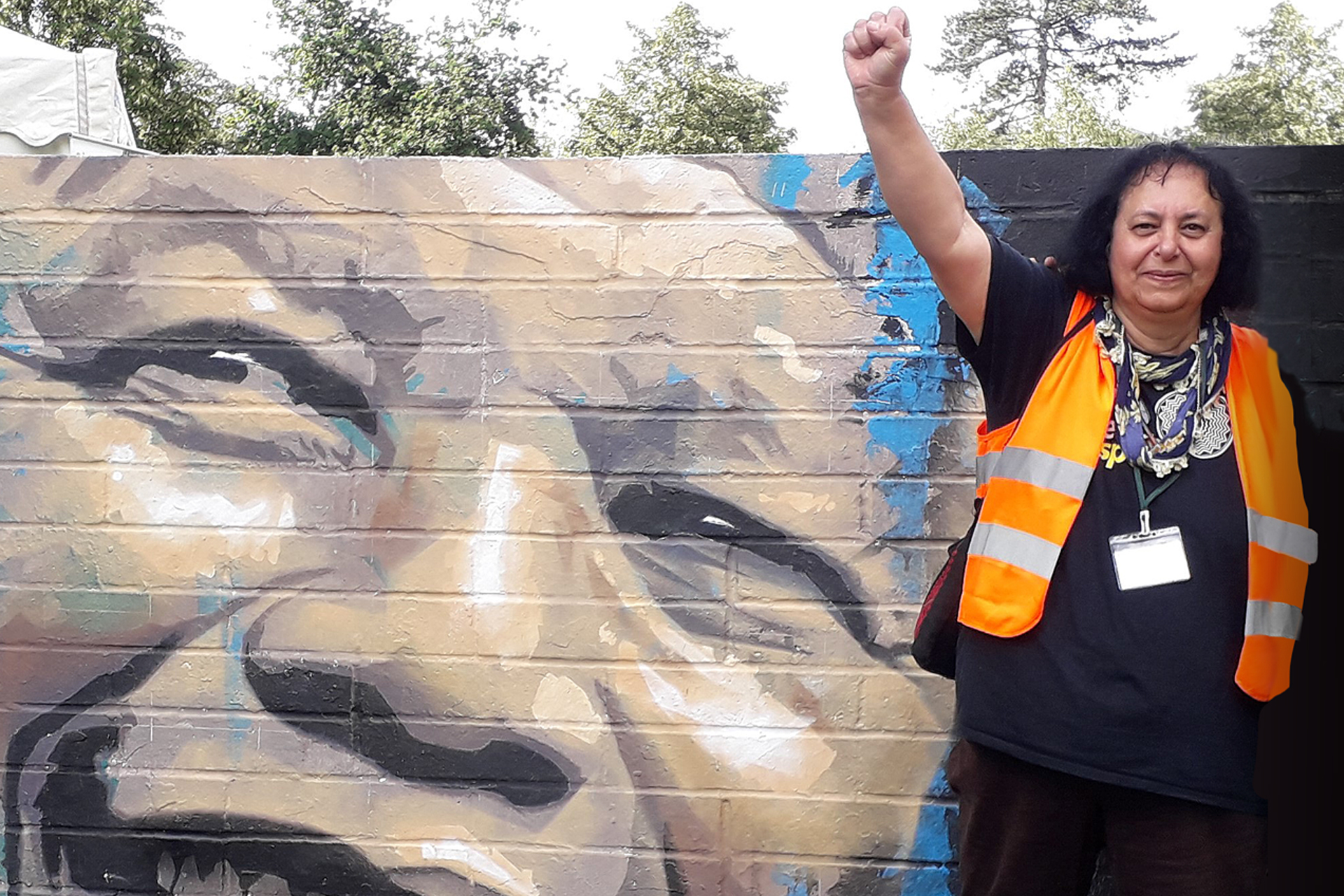 THE FIRST ONE CROSSING THE RIVER
(40 minutes)
Plus Q&A with the producer after the screening
SATURDAY 11 JUNE, 8pm in Studio 74, £5
Tickets from here or from our information tent at the festival
The premier of a film by Jesvy Joseph, The First One Crossing The River, covers Dr Suaad Genem George's journey from her childhood to becoming a human rights advocate and the inception of Exeter Respect festival and its importance and impact on the local community over
the last two decades.
THE EXETER RESPECT FESTIVAL AFTER SHOW PARTY – SAT 11.06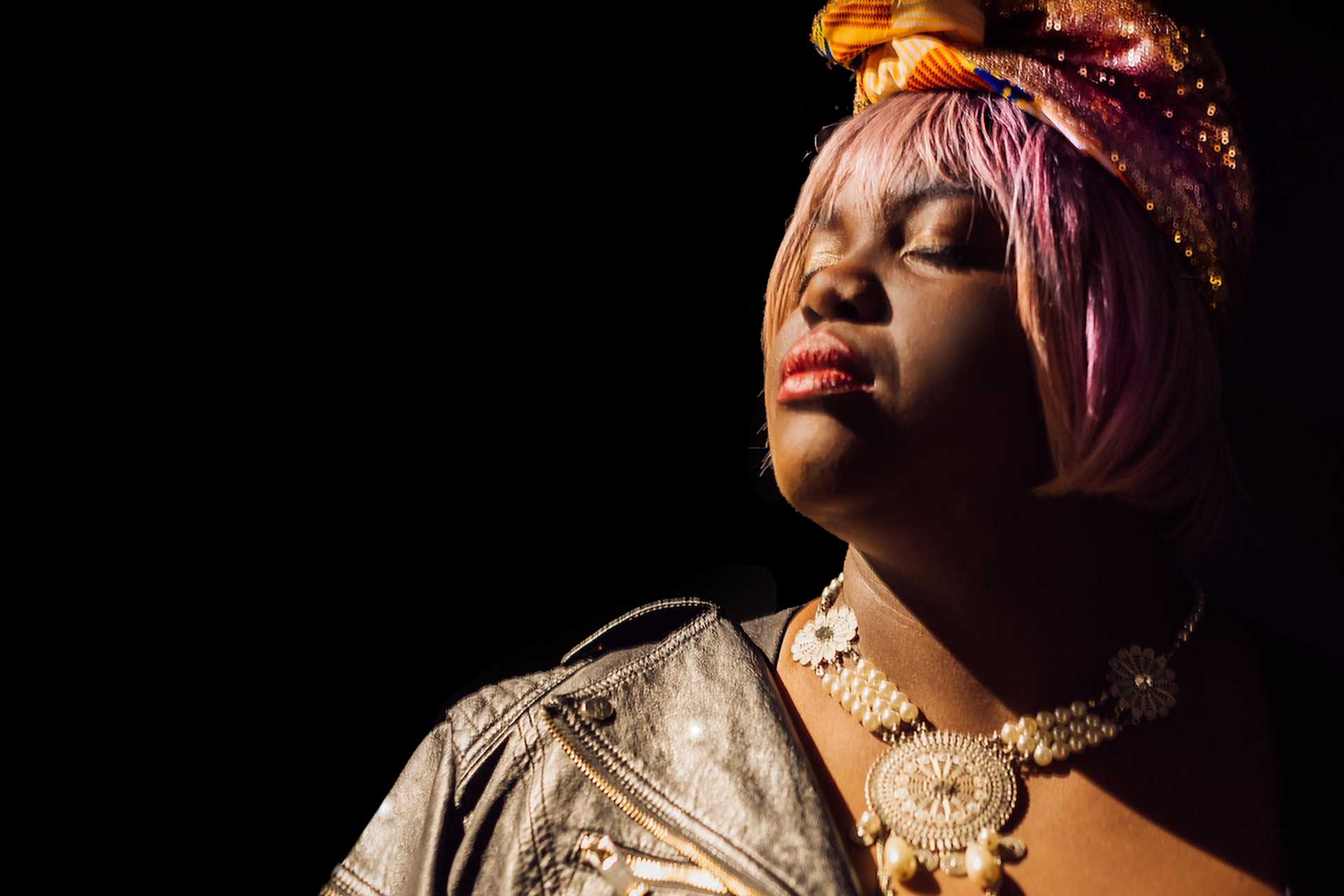 SISTER COOKIE
+ DJ Mr Slick + Dust in the Sunlight
£12 +BF | £10 +BF Concession | 8pm
Join the startling soul sensation Sister Cookie at Exeter Phoenix on Sat 11 June to celebrate the release of her debut album 'In The Blue Corner'.
From London via Lagos, charismatic chanteuse Sister Cookie and her band will take you on an eclectic excursion into the roots & fruits of black music. Old sounds, new tricks. Sensuous, seductive and moody.
As well as possessing a distinctive voice that's tender and sweet when it needs to be, she is a composer and self-taught pianist who writes honest and raw songs about pain, heartbreak, suffering – all that bad (meaning-good) stuff.
A mainstay on the vintage Soul & R'n'R circuit since 2015 with slots at Wilderness, Latitude, Red Rooster, Port Elliot and more under her belt – as well as touring across Europe with her band – Sister Cookie's new album, due on 6 May 2022, has so far been supported by Craig Charles, Mark Radcliffe & Cerys Matthews at 6Music, Robert Elms on BBC London plus plays on Resonance, Jazz FM and Amazing Radio.
She's performed at some of the UK's most esteemed venues including the 100 Club and Union Chapel, The Round Chapel and has enjoyed a number of stints as a guest vocalist with The Soulful Orchestra, Jim Jones & The Righteous Mind, Future Shape Of Sound & MFC Chicken.
Exeter Respect is the city's annual celebration of diversity where we use the performing and creative arts to engage the wider community in saying no to racism and all forms of prejudice. The Respect ethos is a simple one: racism and prejudice often spring from fear, and fear is often based on ignorance, so let's overcome ignorance by getting to know one another and sharing not shunning our cultures. One of the best ways to get to know someone is to enjoy yourself with them, hence our celebratory event and adoption of the old Commission for Racial Equality slogan:
All Different, All Equal!
The first Exeter Respect festival took place in 1997 and there has been a celebration virtually every year since then. From 2003 to 2008 Exeter Respect's biggest event was at Exeter Phoenix Arts Centre, but from 2009 to the present day our focus has been a giant two day festival in Belmont Park, with a footfall of around 20,000 people every year.
After returning to the Exeter Phoenix in 2021 Exeter Respect returns to Belmont Park for 2022, we look forward to seeing you there.