COMMUNITY STAGE LINE UP 2023
SATURDAY 10 JUNE
SOUNDWAVES 12.00
THE EXETER MUSICAL THEATRE CHOIR 12.35
LOU LATHAM 13.10
TESS & THE D'URBERVILLES 13.35
FILIPINO COMMUNITY ASSOCIATION 14.15
INCLUSIVE EXETER ZUMBA GROUP 14.55
KARINA GRACIA DANCE FLAMENCO & BOLLYWOOD 15.35
ROCK MUSIC PROJECT 16:20
GLOBAL HARMONY 17.15
STUDENTS OF INDIA DANCE 17.55
SOUTH KERALA INDIAN DANCE 18.35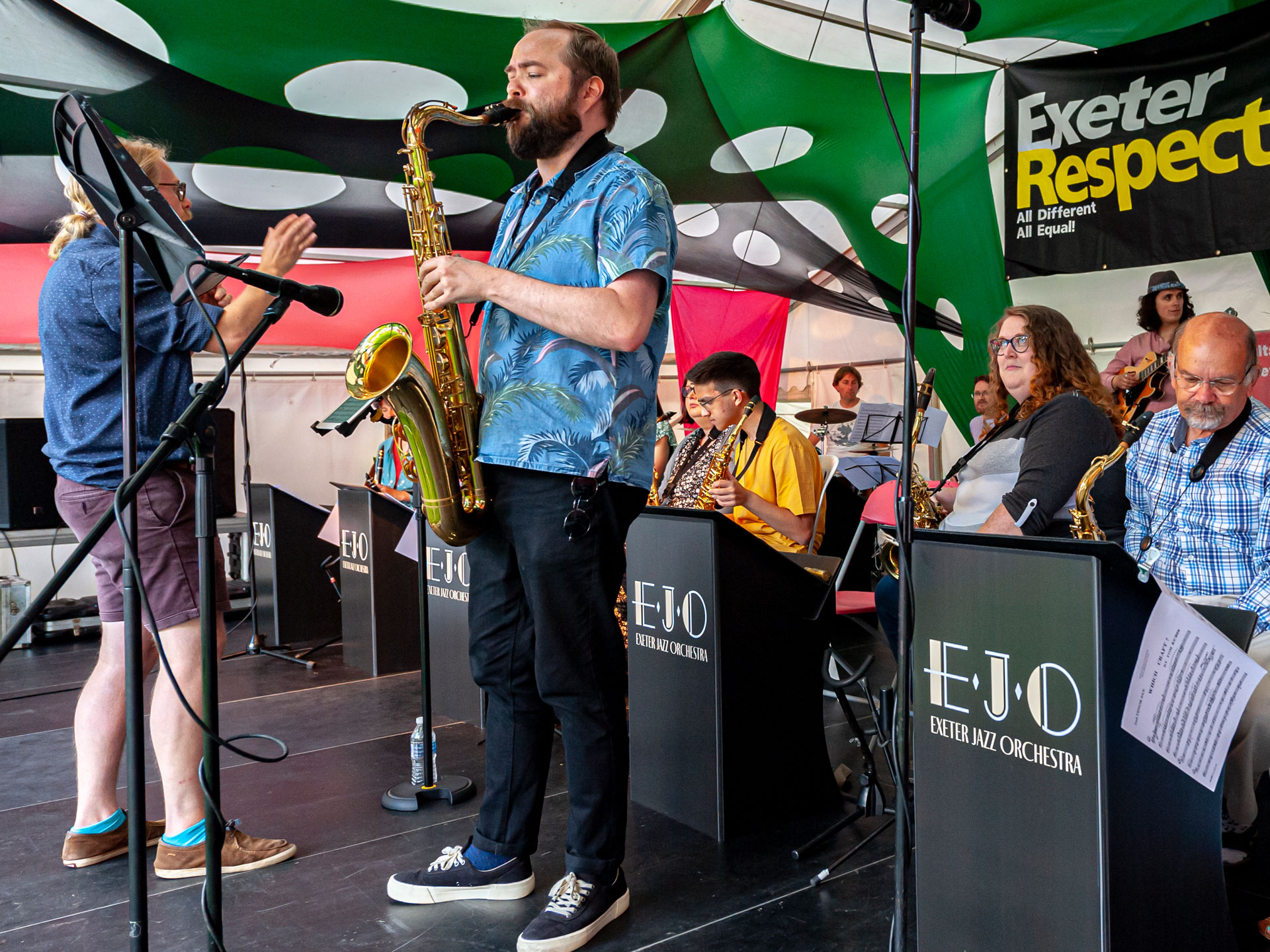 SOUNDWAVES MUSIC PROJECT
Exeter based charity all about people of different abilities making music.
INCLUSIVE EXETER ZUMBA GROUP
A lively and welcoming Zumba Group delivered by the Filipino Association on behalf of Inclusive Exeter who meet every Saturday at the Newtown Community Hut, Belmont Park for an energetic session. Open to everyone, friendly and relaxed. Appeals to gym refusers!
LOU LATHAM
Lou is back with fresh sounds and is now producing, writing and performing. Expect a fusion of Hip Hop/dance music integrating Lou's real talk lyrics.
TESS & THE D'URBERVILLES
Tess & the d'Urbervilles is a lively acappella group based in Exeter. Singing toe-tapping tunes, soaring harmonies and great pop songs. They will send you away with a song in your heart and warmth in your soul!
FILIPINO COMMUNITY ASSOCIATION CHOIR
A community group who enjoy singing and mainly sing at their Catholic Church in Exeter. They enjoy Exeter Respect Festival every year and come to perform introducing their traditional Filipino lyrics and voice.
THE EXETER MUSICAL THEATRE CHOIR
A new and dynamic singing ensemble for local people, headed up by MD Kelly Young, the choir are a part of The Sing Space who run choirs around the UK and provide professional voice training and opportunities without auditions. The choir is open to all with a focus on community, showtunes, harmonies and technique. They have been championed by West End stars such as Kerry Ellis and Gina Beck. The choir have supported Gareth Malone on his UK tour and are singing at Cadogan Hall, London in July.
KARINA GRACIA DANCE FLAMENCO & BOLLYWOOD
Graceful bodywork and powerful footwork combine in this passionate dance from Southern Spain, accompanied by live guitar. Karina trained in Spain and the UK and along with performances, offers weekly classes in the South West including at Exeter Phoenix.
THE ROCK PROJECT EXETER
The Rock Project is the UK & Ireland's premier school for children's contemporary music tuition, offering group lessons in electric guitar, bass guitar, drums and vocals with the opportunity for young people aged 7-18 to put their musical skills into practice by performing regularly each week as part of a band.
GLOBAL HARMONY CHOIR
A mixed community choir based at Exeter Phoenix sing songs of celebration and protest from around the world in glorious harmony. From Africa, the Middle East or pop favourites, the choir bring an eclectic and diverse repertoire to the stage.
STUDENTS OF INDIAN DANCE
The classical dance form of Bharatanatyam is one of the most dynamic and internationally popular styles of Indian dance. This ancient art form is based around Hindu mythology and originated in Hindu temples as a form of worship to the Gods.
SOUTH KERALA INDIAN DANCE
Exeter Kerala Community Association will perform a traditional Indian dance from India from the region of South Kerala, this will be a vibrant colourful dance to bring this region to Exeter.
SUNDAY 11 JUNE
THE TURNING TIDES PROJECT 11:00
MAKATON JUKEBOX 11:30
WREN MUSIC 12:05
NEWTOWN ROOTS BAND 13:10
BULGARIAN TRADITIONAL DANCES 14:00
HIKMAT CHINESE DANCE GROUP 14:30
MAX KROGER & (JIM SHINE MUSIC DEVON) 15:00
THE KURDISH GOVEND DANCE 15:40
TBC 16:15
GLORIOUS CHORUS 17:00
OTTER MORRIS DANCERS performing between acts from 12:00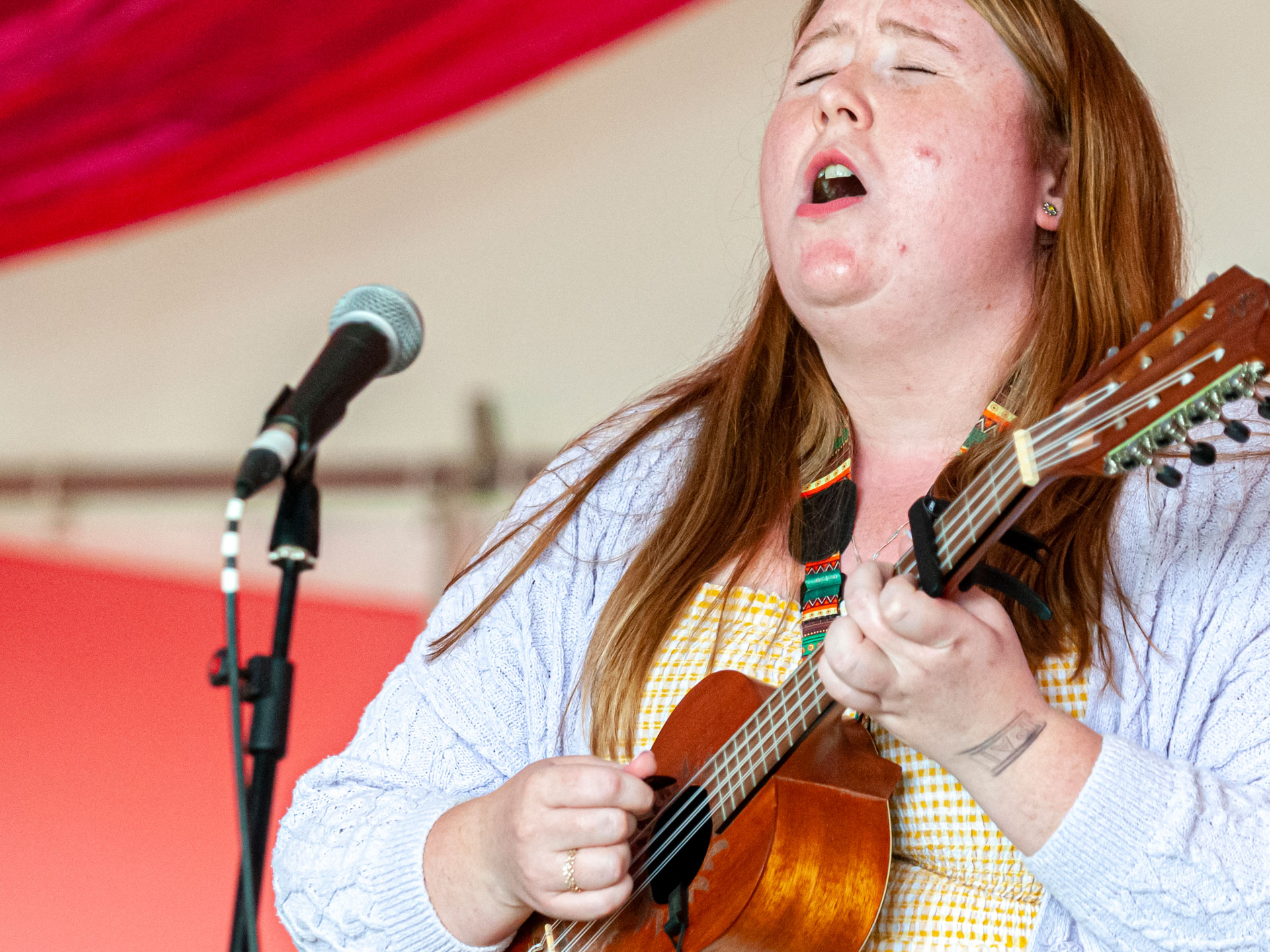 TURNING TIDES PROJECT
Founded in 2014 the Turning Tides Project aims to make equal access to music, the arts and life a reality for people with 'learning disability' and 'autism' labels.
MAKATON JUKEBOX
Makaton is the signing system for non-verbal people with learning disabilities. The choir is made up of sixteen people, half of whom are non-disabled paid or unpaid carers, the other half are adults with cognitive disabilities. Makaton Jukebox is led by professional singer Joanne Rogers who ensures they sound as good as they look! Initially singing covers, they have progressed onto original songs created by composer Ben Glass.
WREN MUSIC
Okehampton based charity Wren Music helps people from all backgrounds and all levels of experience to make music together, all across Devon. At this year's Respect Festival they will present a joint performance from their youth group the Devon Youth Folk Ensemble, and their men's choir MenSing. Find out more at wrenmusic.co.uk
NEWTOWN ROOTS BAND
A community band that makes a big joyous sound playing a variety of folk tunes from around the world with exciting arrangements, energy and fun. All acoustic instruments/all abilities/all ages play in this friendly group. They regularly perform at community events and festivals including Sidmouth Folk Festival, Newtown Community events and of course Respect Festival.
BULGARIAN TRADITIONAL DANCE
DG "Sedef" presents dances that have been around for centuries. They bring vitality and positive emotions entwined in unique odd rhythms. Even though the moves are important and sometimes difficult 'in Bulgaria the main thing is the passion. When we dance you can see our feelings, our fire, our passion'.
THE HIKMAT CHINESE DANCE GROUP
Chinese Community Dance Group, bringing the tradition of China to Exeter, dynamic and vibrant colourful with a unique touch of Chinese cultural flavour.
MAX KROGER & JIM (SHINE MUSIC DEVON)
Max is a multi instrumentalist from Shine Music Devon with experience of the piano, saxophone, drums and beat boxing. Max has worked hard over the years to find his own sound, putting his own take on his favourite covers of popular songs on the piano. Expect emotional chords with striped back moody melodies to create a unique feel to piano and performance. Max always plays with feeling and from the heart.
GLORIOUS CHORUS
Based in Totnes and having performed at various festivals in the past including Glastonbury, Port Eliot & Isle of Wight, Glorious Chorus perform all-original music, and have won an international songwriting award for a composition in 2015.
URBAN FLOW
Urbanflow is an authentic streetdance company driven with passion and positivity. Winning crews Fierce & Urban ID will be performing at the festival between acts .