MANDELA STAGE LINE UP 2022
SATURDAY
SPEECHES 11.40
BIG NOISE CHOIR 12.00-12:45
THE PAPERS 13.10-13.55
HiFi LoFi 14.15 -15.00
THE HENRY GIRLS15.30 -16.30
THE RUBY MAY SPENCER BAND 17.00 -17.45
THE GAANA COLLECTIVE 18.20 – 19.00
THE HENRY GIRLS
The Henry Girls are sisters Karen, Lorna and Joleen McLaughlin from the most Northerly part of Co. Donegal. The trio formed as a professional music group in 2001 and have recorded 6 studio albums, a couple of EPs and a live album of music by The Boswell Sisters of New Orleans.
Infused with the rich cultural heritage of their native Donegal but with a transatlantic flavour their music has been described as ʻfull bodied and powerfully dynamic'. They have successfully learned to interweave their traditional roots with contemporary elements, earning them both commercial success and spectacular critical acclaim on both sides of the Atlantic.
The Henry Girls have played at many festivals all over Europe and beyond and they regularly tour in countries like Germany, Holland, Austria, UK, Ireland and USA and are looking forward to headlining Exeter Respect In The Park on Saturday 11 June.
BIG NOISE CHOIR
The Big Noise Chorus was first created under their Director of Music, Colin Rae nearly 12 years ago and has grown to have over 450 members covering Exeter, Torbay and Ashburton. Since then there have been many memorable occasions including a sell-out 10th anniversary concert at Exeter Cathedral in 2019. Also during that time, over £100,000 has been raised for charitable causes. Their performances cover a wide musical spectrum and membership is open to everyone regardless of musical experience.
THE PAPERS
The Papers started in Brixton london in 1979, playing rock reggae around the London pubs and clubs, including Ronnie Scotts and The Rock Garden and the Marquee. They have released three albums, one recorded live at festivals and events for No Nukes music and Rock Against Racism. The band reformed in 2006 and are now based in Exeter. Their latest single, 'In Vienna' was released in July 2020, followed by covers of 'Whiskey In The Jar', 'Space Oddity' and 'Message In A Bottle'.
HiFi LoFi
HiFi LoFi fuse together influences like Prince and the Red Hot Chilli Peppers, adding in some 90's r&b, leaving you feeling that their songs have taken you back whilst also sounding fresh and new. The Devon based four piece will blow your mind live, creating an unexpectedly big sound, reminding us of the early Queen or local band Muse. Full of energy, you can't take your eyes off them once they're on the stage! Their new single 'Big City Mama' is to be released soon…and it is everything.
THE RUBY MAY SPENCER BAND
Singe songwriter Ruby May Spencer is a long supporter of Exeter Respect Festival and is one of our Young Ambassadors. She is excited to be back at this year's festival with her accompanying band who will perform a mix of original and well-known cover songs that will aim to uplift. Releasing her debut EP 'The Prologue' in December 2014 – aged 14yrs. Ruby has continued to develop as a musician. Amy Winehouse, Etta James, and Alabama Shakes inspire her music.
THE GAANA COLLECTIVE
Information coming soon
SUNDAY
LAZY SNACKS 11.00-11.45
DEVON AFROBEAT COLLECTIVE 12.15-13.00
HAZAAR 13.25-14.10
BLENDOLOGY BIG BAND 14.35-15.20
EXETER UKULELE GROUP 15.30-16.10
TRIKKEBALLAKKE 16.20-17.05
ORCHESTRA SABU 17.20 -18.00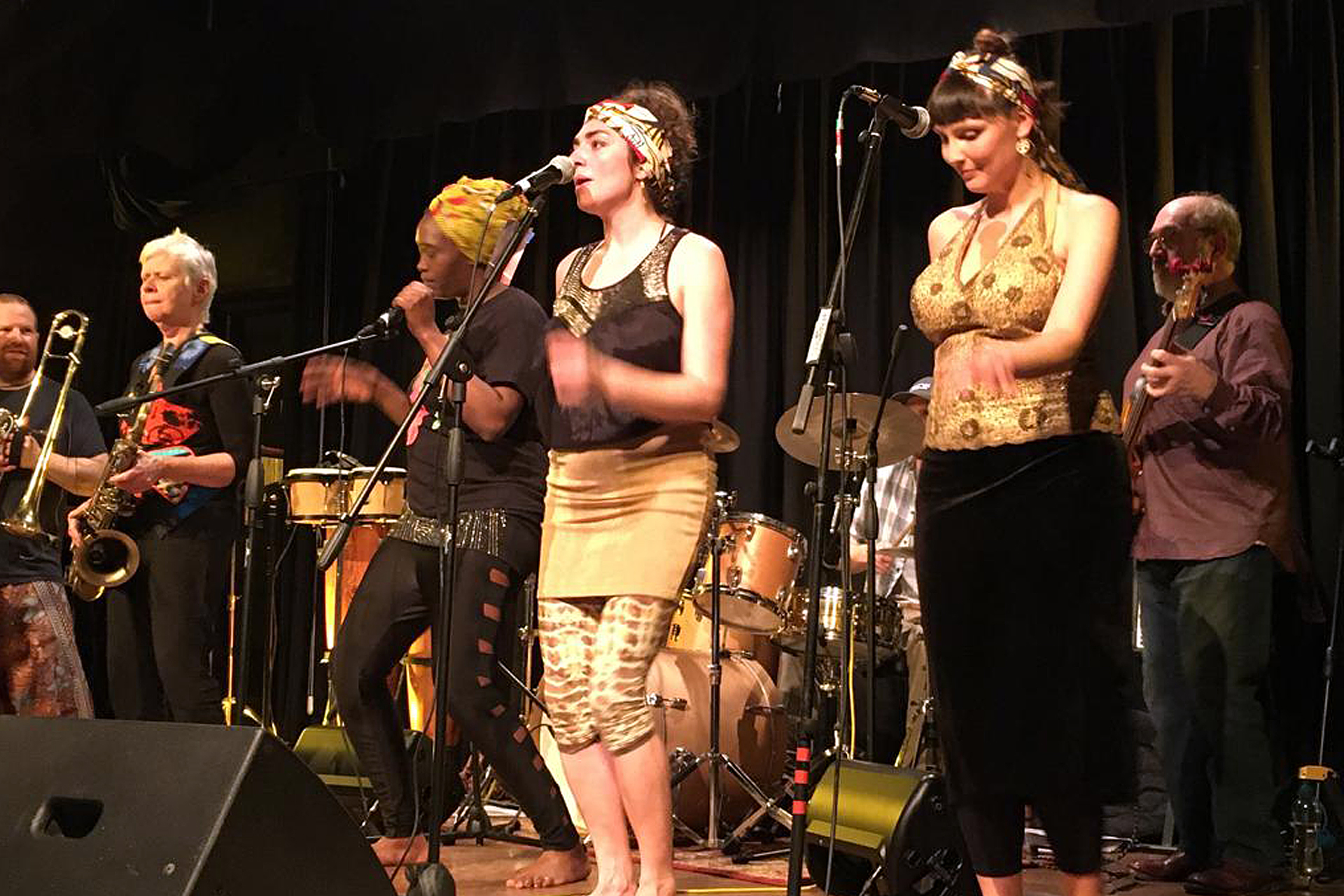 DEVON AFROBEAT COLLECTIVE
With the fabulous voice of Jaz Gayle, two backing singers, and a five-piece horn section, Devon Afrobeat Collective are a 14-piece Afrobeat band that includes three great singers and a five-piece horn section. The Collective played a sell out gig at Ashburton Arts in September 2021, and have recently appeared at Exeter Street Arts and Something Wild Festival.
LAZY SNACKS
A 5 piece funk band with a funky sound that defies you not to start foot-tapping, jiggling on the spot and pretty soon dancing around the room with sheer exuberance!
HAZAAR!
Dartmoor based klezmer band are performing a range of tunes from Eastern Europe. This band promises to take you on a journey to the Balkans and beyond so don't forget to pack those dancing shoes!
BLENDOLOGY BIG BAND
A full 20 piece (sometimes more!) big band playing the repertoire of the giants. Ellington & Basie through to Gordon Goodwin and beyond, a big band with a big sound incorporating Southwest's top musicians.
EXETER UKULELE GROUP
Sing along with the happy ukulele gang, bringing you music from down South, up North and of course from their Little Grass Shack in Hawaii. There will also be a comic interlude in the middle where we can all catch our breath and giggle. Family friendly entertainment. Join them for good times in the Summertime!
TRIKKEBALLAKKE
Trikkeballakke are an Exeter-based music and dance group that proposes an immersive experience in the diversity of rhythms and living folk traditions of Southern Italy.
The percussive trance of Pizzica and Tammorriata's evocative and ritualistic melodies are at the core of a captivating show that promises a great deal of dancing and emotional involvement. Southern Italian music, while rooted in our millennial peasant tradition, reflects the many music and cultural influences of our larger Mediterranean heritage. Working to preserve and revamp this local heritage, Trikkeballakke honours and upholds music as a universal language, and a bridge across different cultures and ways of life.
ORCHESTRA SABU
SabuPappu has spent 15 years in Exeter singing at many events of Indian heritage, plus the Master of the Catholic Malayalam Church Choir. SabuPappu music comes from Kerala Indian.