COMMUNITY STAGE LINE UP 2022

SATURDAY 11 JUNE

INCLUSIVE EXETER ZUMBA GROUP 12.00-12.30
KURDISH GOVEND DANCER 12.40-13.10
WAZ GEORGE 13.20-13.30
GLOBAL HARMONY 13.35-13.55
FILIPINO COMMUNITY ASSOCIATION 14.10-14.40
URBANFLOW 14.50-15.05
KARINA GRACIA FLAMENCO DANCE 15.10-15.35
ROCK MUSIC PROJECT 15.40-16.10
KARINA GRACIA BOLLYWOOD 16.15-16.40
EXETER COMMUNITY FOLK ORCHESTRA 16.50-17.40
FOUNTAINEERS 18.00-18.45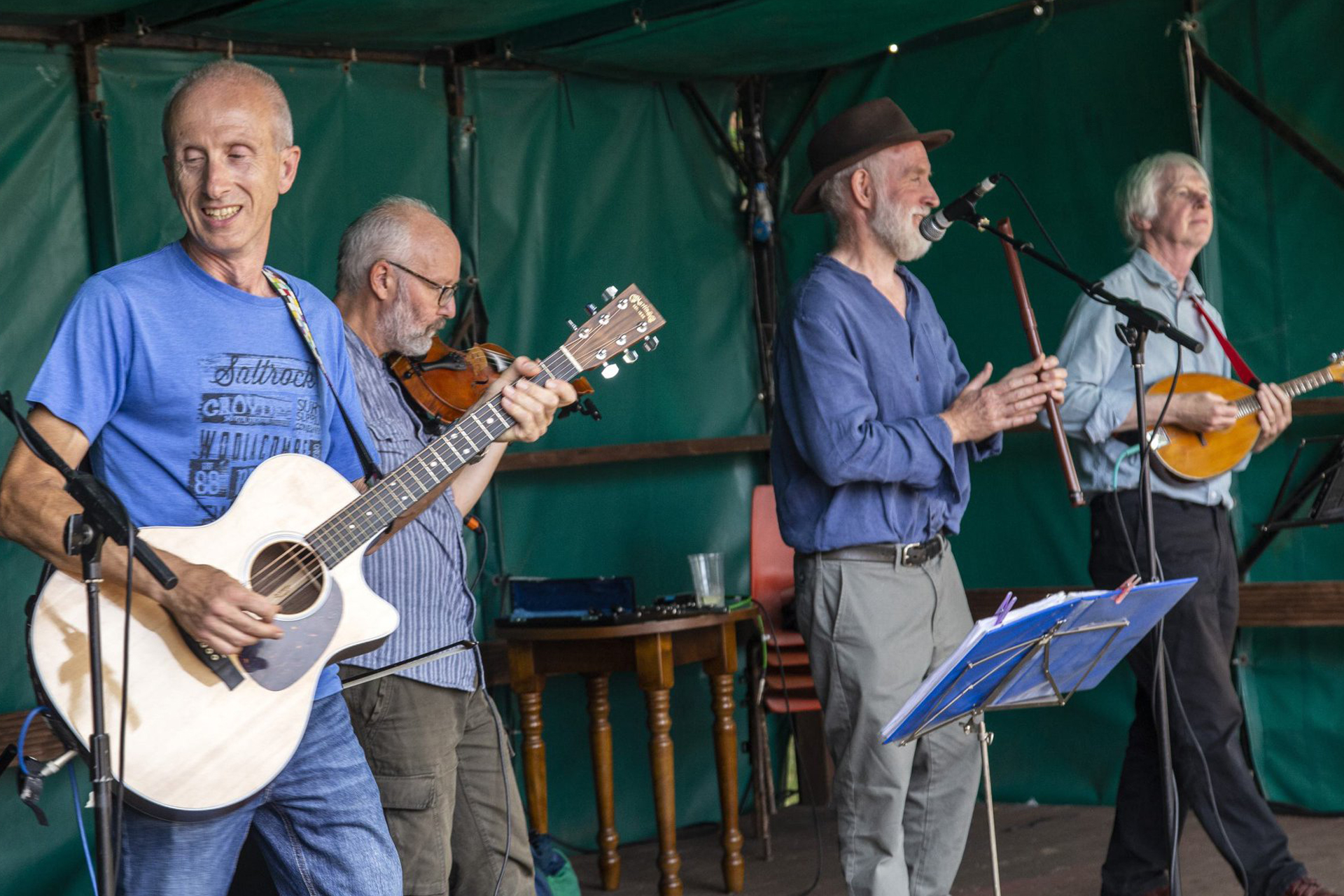 INCLUSIVE EXETER ZUMBA GROUP
A lively and welcoming Zumba group delivered by the Filipino Association on behalf of Inclusive Exeter.
WAZ GEORGE
Waz plays piano, writes his own spoken words and composes his own music whilst studying music at the University of West London.
GLOBAL HARMONY
A mixed community choir based at Exeter Phoenix who will be singing songs of celebration and protest from around the world in glorious harmony. From Africa, the Middle East to pop favourites, the choir brings an eclectic and diverse repertoire to the stage.
FILIPINO COMMUNITY ASSOCIATION
A community group who enjoy singing! The Filipino Community Association Choir mainly sings at their Catholic Church in Exeter and they enjoy the Exeter Respect Festival every year they come to perform introducing Filipino traditional lyrics and voice.
URBANFLOW
Celebrating its 10th anniversary in 2022, Urbanflow is an authentic streetdance company driven by passion and positivity. Winning crews Fierce & Urban ID will also be performing. Just like Exeter Respect, Urbanflow expresses 'All Different, All Equal'. Louise, the creative director/teacher/dancer runs classes for kids, teens and adults and Don't Dis My Ability.
KARINA GRACIA FLAMENCO DANCE
Graceful bodywork and powerful footwork combine in this passionate dance from Southern Spain, accompanied by live guitar. Karina trained in Spain and the UK and along with performances, offers weekly classes in the South West including at Exeter Phoenix.
ROCK MUSIC PROJECT
The Rock Project is the UK & Ireland's premier school for children's contemporary music tuition. Teaching group lessons in electric guitar, bass guitar, drums and vocals with the opportunity for young people aged 7-18 years old to put their musical skills into practice by performing regularly each week as part of a band!
KARINA GRACIA BOLLYWOOD
Bollywood dance is a fusion of Eastern and Western dance that evolved from the Indian film business. The music is upbeat and fun and the dance is very lively! It's highly addictive for the mind, body and the soul! It's colourful, it's vibrant, it's beautiful and it's infectious.
EXETER COMMUNITY FOLK ORCHESTRA
The Exeter Community Folk Orchestra is an open, welcoming and inclusive music group.
They play for fun, to make joyous music and do the occasional gig. Their most recent excursions have been for Refugee Support Devon and St Petrock's.
FOUNTAINEERS
An East Devon band playing mostly Celtic tunes and songs chosen to get feet tapping and folks dancing. Well known in the folk circuit having played most of the local folk festivals over the last few years. Featuring fiddle, mandolin, whistles, guitar, bodhran and voices.
KURDISH GOVEND DANCE
Kurdish traditional played in a group format performed at the weddings, festivals and even as an act of resistance against the oppressors.
SUNDAY 12 JUNE

MAJIDAH TRIBAL BELLY DANCE 11-11.20
SPECTRUM CHOIR 11.30-11.55
WREN MUSIC 12.05-13.00
NEWTOWN ROOTS BAND 13.10-13.50
BULGARIAN TRADITIONAL DANCE 14.00-14.25
GARLAND SUPPORT 14.30-14.50
MAX KROGER 15.00-15.25
ILARIA BELLY DANCE & AMANDA FARAH DANCE LISKERRETT 15.40-16.05
EXETER JAZZ ORCHESTRA 16.15-16.55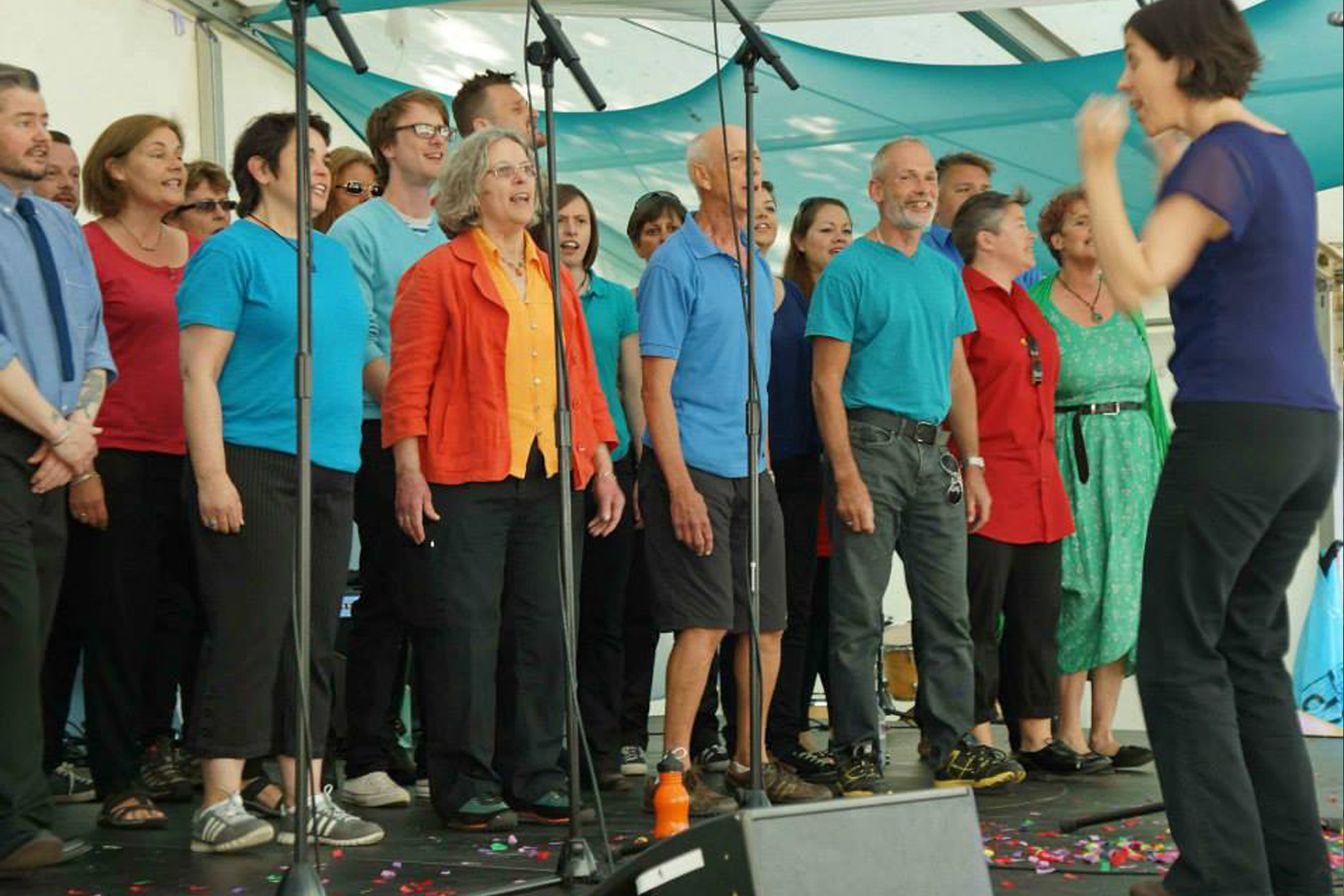 MAJIDAH TRIBAL BELLY DANCE
A colourful dance troupe based in Exeter and surrounding areas. Their style is a fusion of steps inspired by Middle Eastern, North African, Indian and Flamenco dance performed as a free-flowing group improvisation.
SPECTRUM CHOIR
Spectrum Choir was Devon's first LGBTQ+ choir. They welcome all LGBT+ people and their friends. If you sing in the shower or at the traffic lights, come sing with us! There's no audition and you don't need to read music. Why not join them at the start of a new term for one of their drop-ins!
WREN MUSIC
Okehampton based charity Wren Music helps people from all backgrounds and all levels of experience to make music together, all across Devon. At this year's Respect Festival they present a joint performance from their youth group, the Devon Youth Folk Ensemble, and our men's choir MenSing.
NEWTOWN ROOTS BAND
A community band that makes a big joyous sound playing a variety of folk tunes from around the world with exciting arrangements, energy and fun. All acoustic instruments/all abilities/all ages play in this friendly group. They regularly perform at community events and festivals including Sidmouth Folk Festival, Newtown Community events and of course Respect Festival.
BULGARIAN TRADITIONAL DANCE
Irregular rhythms, enthralling music sounds, and gorgeous costumes, these are all characteristics of Bulgarian folk dances that are part of every wedding and celebration in Bulgaria capturing spectators' attention with subtle rhythms and intricate footwork. Dance Club "Sedef" will have the honour to present traditional dances from different regions of Bulgaria.
GARLAND SUPPORT
A fantastic group of people Garland support will perform an Equality Rap declaring their support for a multicultural Exeter, celebrating dance, art, music and languages from around the world. Performed with high octane energy and pulsating rhythms they aim to set the festival alight!
MAX KROGER
Max has been playing the piano for over 6 years with Shine Music Devon . Max plays a variety of popular covers ranging from Adele to Sam Smith and has recently started composing some of his own classical pieces. Max plays with humotion and precision . His unique piano style is gripping from the start and has moved many audiences across Devon.
ILARIA BELLY DANCE & AMANDA FARAH DANCE LISKERRETT
Ilaria Belly Dance and Amanda Farah Dance Liskerrett are based in Exeter and Liskeard. This year they will bring a mixture of classical and folkloric styles on the Respect Festival's stage. They are waiting to see you all and dance together!
EXETER JAZZ ORCHESTRA
A newly formed big band playing golden age jazz, affiliated with the Newtown Community Centre in Belmont Park. The band has come together incredibly quickly and the level of musicianship is fantastic – they have many members from the disbanded Locked Horns which have played at the Respect Festival in previous years.